Welcome
We give thanks to God for all the blessings that He has bestowed upon our parish over the last 125 years. A small group of German immigrants has grown into a parish of over 1900 families in the course of these years. Growth has meant change from a small church on Broadway to our magnificent church of today where we are a community of people sharing the oneness of our faith and love for God. Our parish has a fine history of welcoming new parishioners and the community spirit among our parishioners continues to grow.
Our Mission is to continue the work started by our founders with Jesus Christ as our model, centered in the Eucharist, and teaching the gospel message and applying it to our everyday lives. May we be a beacon of Christian hope and love to the people of Bayonne as we are founded in the past and focused on the future.
To register with St. Henry Parish, come to the Rectory Office, in person, between 9 AM and 4 PM weekdays and complete a registration card, or call 201-436-0857, Ext. 110 (Jean).
---
ST. HENRY RELIGIOUS EDUCATION
NEW & RE-REGISTRATION FOR THE 2022-2023 PROGRAM YEAR

Registration forms were emailed to all families whose children were registered in our program for the 2021/2022 term.  If you have changed your email address please call the office at 201-339-0319.  If you haven't received this information, please first check your "spam" mail and if it's not there call our office.
**New registrants must call the Religious Education Office 201-339-0319 or Marie Pope 908-612-6674 so a registration form may be sent to you via email. 
NOTE:  We will only be accepting completed registration forms and payments from both new and re-registrants as follows, in person, in the Religious Education Office, 28th St. & Avenue C:
For the rest of AUGUST:
MONDAYS & TUESDAYS  –  10AM  –  2PM
WEDNESDAYS & THURSDAYS  –  3PM  –  7PM

SATURDAYS:  Registrations on Saturdays require an appointment.  Call 201-339-0319.

VERY IMPORTANT:  For NEW registrants, your child's BAPTISM CERTIFICATE must accompany his/her registration form in order for it to be processed.  For all RE-registrants, please make sure we have a Baptism Certificate on record for your child.  If not, please provide it immediately.
Sunday class time will be 8:45 AM  – 9:45 AM for Kindergarten, 1st/2nd year RCIC (unbaptized), 1st/2nd year catch up, 1st, 2nd, 3rd, 4th and 5th grades.  All of these classes will be in person and children will receive traditional faith formation teaching.
Wednesday class time will be 4PM—5PM for 1st, 2nd, 3rd, 4th and 5th grades.
Wednesday class time will be 7PM—8PM for Junior High (6th, 7th and 8th grades).
NOTE:  There will be a new PILOT PROGRAM called "God's Park" for Sunday and Wednesday 1st, 2nd and 3rd grades.  If you decide to register your child for this program a digital/hybrid concept will be in effect.  The children will receive 2 weeks of digital faith formation and 2 weeks of in-person faith formation.  A calendar will be created and shared with you as to the dates of the in-person teaching.
Confirmation classes will be held VIRTUALLY either 8:30AM –9:30AM; 4PM—5PM or 7PM—8PM, on the 3rd and 4th Sunday of each month, with the Catechist's option of in-person classes for various religious experiences, retreat, stations of the cross, etc.  You will be notified as far in advance as possible when these in-person classes will be required.  Mass attendance is extremely important for all families and their children regardless of grade.
If your child/children attend Catholic school they are still required to attend Confirmation prep classes at St. Henry's Religious Education.  
Young adults who have not attended religious education over the years must contact our office so we can place you in the appropriate class.  Confirmation prep begins in the 9th grade.  However young adults must attend at least 2 years of religion classes before being placed into a prep class as a Confirmation candidate.
Also note that all children preparing for the Sacrament of First Eucharist must attend two consecutive years of faith formation.
Religious Education classes usually begin on the 3rd Sunday of September and the following Wednesday.  However due to re-structuring challenges we are not yet sure when classes for 2022-2023 will begin.  Once we have that information we will share it with you.
RITE OF CHRISTIAN INITIATION (RCIA)
RCIA is a program for adults over 18 who would like to receive the Sacraments of First Communion and/or Confirmation.  If you have not been baptized, you will receive all 3 sacraments which are called the Sacraments of Initiation.
If interested or if you have any questions, call Marie Pope at 908-612-6674, who will be teaching the class in a remote capacity via Zoom.  There is no fee.  You will need to provide a copy of your baptism and first communion certificates (if applicable) as well as your marriage certificate (church or cival) if married.  If you do not have your sacramental records you may obtain them by calling the church where you received them.  If you need help with this, let Marie know.
You should be registered with St. Henry Parish in order to receive the sacraments here.  If you are registered at another parish, that is where you should receive the sacraments.  If you are not registered at a parish and wish to register at St. Henry's, you may do so by going to the Parish Office Monday—Thursday, 9AM—3PM or call 201-436-0857, ext. 110.
You will be asked to select a godparent/sponsor (one) for the sacraments of Baptism and Confirmation.  It will be the same person for both sacraments.  He or she must be a practicing Catholic, be registered in a parish, be 16 years of age or older, Baptized, received First Eucharist and Confirmation.   He or she must obtain a "sponsor certificate" from their current parish.
During class times you will be asked to select a saint's name for Confirmation; write a letter to the bishop explaining why you feel you are ready to receive the Sacrament of Confirmation; write a letter to your sponsor explaining why you selected him or her. 
Class dates/times have not yet been determined (in the past, using Zoom, classes were held early Sunday afternoons).
---
Parish Office hours are:  Monday through Thursday, 9AM to 3PM

The FOOD PANTRY is open WEDNESDAYS, 9:30 AM to 12:30 PM, for Bayonne residents only.
(Non-perishable food items are always needed and very much appreciated.  You may bring your donation to the Parish Office, Monday – Thursday, 9AM – 3PM)

Ring the Office doorbell.  A pre-packaged bag will be brought to you.

---
2022 MONTHLY CALENDAR RAFFLE

THE  AUGUST WINNER FOR OUR 2022 CALENDAR RAFFLE IS:  Stanley Ivancic
Congratulations!
The next drawing will be September 1st.  Good luck to all!
---
–  The 12 Noon Mass on Sunday is live-streamed on our Facebook page, St. Henry RC Church.
–  We continue to celebrate ONE Mass each weekday at 12 Noon, and the scheduled intentions for our regular 8:30 AM and 12:05 PM Masses are honored together at this Mass.
---
From the Archdiocese of Newark:  (click on title to view)
Rejoice in the Lord NEWSLETTER
by Cardinal Joseph W. Tobin, Archbishop of Newark
---
For more information about current parish events & other news click on the "Bulletin" tab above to view our most recent bulletin as well as past issues.
---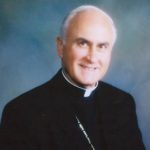 We remember with love our beloved pastor, bishop and  friend,
Bishop Thomas Donato
Oct. 1, 1940  –  Aug. 25, 2015