Welcome
We give thanks to God for all the blessings that He has bestowed upon our parish over the last 125 years. A small group of German immigrants has grown into a parish of over 1900 families in the course of these years. Growth has meant change from a small church on Broadway to our magnificent church of today where we are a community of people sharing the oneness of our faith and love for God. Our parish has a fine history of welcoming new parishioners and the community spirit among our parishioners continues to grow.
Our Mission is to continue the work started by our founders with Jesus Christ as our model, centered in the Eucharist, and teaching the gospel message and applying it to our everyday lives. May we be a beacon of Christian hope and love to the people of Bayonne as we are founded in the past and focused on the future.
To register with St. Henry Parish, come to the Rectory Office, in person, between 9 AM and 4 PM weekdays and complete a registration card, or call 201-436-0857, Ext. 110 (Jean).
---
2021 MONTHLY  CALENDAR RAFFLE

MONTHLY PRIZE:  $1,000
Next DRAWING:   June 1, 2021

MAY's winning ticket was selected on May 1st.  The WINNER is Barbara Kellner.
---
The PARISH OFFICE is OPEN, Monday through Friday, 9 AM to 4 PM.   If there is a matter that cannot be taken care of by telephone, you are welcome to come in.  Please note that a face covering must be worn and social distancing will be practiced in the office.  Please do not come in if you are feeling ill or have a fever.
The FOOD PANTRY is open WEDNESDAYS, 9:30 AM to 12:30 PM, for Bayonne residents only.
(Non-perishable food items are always needed and very much appreciated.  You may bring your donation to the Parish Office, Monday – Friday, 9AM – 4 PM)

Face masks are required.

Social Distancing should be practiced.

Participants may come once every two or three weeks.

Ring the Office doorbell.  A pre-packaged bag will be brought to you.

The RELIGIOUS EDUCATION OFFICE will accept visitors BY APPOINTMENT – call Marie Pope at 201-339-0319 or 908-612-6674.

---
WEEKDAY  MASSES, Monday through Friday are held at 12 Noon only, until further notice, in order to save on energy costs. (The scheduled intentions for both 8:30 AM and 12:05 PM Masses are honored  together at the 12 Noon Mass).  SATURDAY MORNING MASS is held at 8:30 AM.

WEEKEND MASSES are the regular schedule – Saturdays at 5:30 PM and Sundays at 8AM, 10AM and 12 Noon.
CONFESSIONS are held on Saturdays, 9:00 AM – 9:30 AM   and   4:30 PM – 5:15 PM

We continue to live-stream via our Facebook page (St. Henry RC Church) the weekday Masses as well as Saturday 5:30 PM and Sunday 10AM and 12PM Masses, to enable those who cannot be physically present to participate.
Click on the following for more information and Guidelines to follow when you come to Mass.     Guidelines for Celebration of the Mass
---
From the Archdiocese of Newark:  (click on title to view)

Rejoice in the Lord NEWSLETTER
by Cardinal Joseph W. Tobin, Archbishop of Newark

Five Reasons We Turn To Mary in Times of Crisis  – April 23, 2020
by Cardinal Joseph W. Tobin, Archbishop of Newark
Spiritual Closeness in a Time of Social Distancing: Seven suggestions
a message from Cardinal Joseph W. Tobin, Archbishop of Newark
---
For more information about current parish events & other news
click on the "Bulletin" tab above to view our most recent bulletin
as well as past issues.
---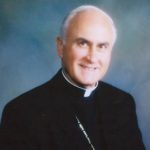 We remember with love our beloved pastor, bishop and  friend,
Bishop Thomas Donato
Oct. 1, 1940  –  Aug. 25, 2015