Welcome
We give thanks to God for all the blessings that He has bestowed upon our parish over the last 125 years. A small group of German immigrants has grown into a parish of over 1900 families in the course of these years. Growth has meant change from a small church on Broadway to our magnificent church of today where we are a community of people sharing the oneness of our faith and love for God. Our parish has a fine history of welcoming new parishioners and the community spirit among our parishioners continues to grow.
Our Mission is to continue the work started by our founders with Jesus Christ as our model, centered in the Eucharist, and teaching the gospel message and applying it to our everyday lives. May we be a beacon of Christian hope and love to the people of Bayonne as we are founded in the past and focused on the future.
To register with St. Henry Parish, come to the Rectory Office, in person, between 9 AM and 4 PM weekdays and complete a registration card, or call 201-436-0857, Ext. 110 (Jean).
---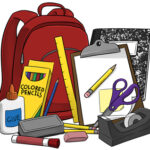 SCHOOL SUPPLIES COLLECTION
Beginning the weekend of August 1st and through the month of August, we will once again be collecting school supplies for needy children who are attending Catholic schools in local inner-city areas.  Some suggestions are:  pencils, glue, rulers, folders, crayons, children's scissors, backpacks, etc.
Collection boxes will be set up in the Church lobby.  Your support is, as always, very much appreciated!

---
MASS SCHEDULE  –  Additional Information
–  The 12 Noon Mass on Sunday is livestreamed on our Facebook page, St. Henry RC Church. (weekday and other Saturday/Sunday Masses are no longer livestreamed)
–  We continue to celebrate ONE Mass each weekday at 12 Noon, and the scheduled intentions for our regular 8:30 AM and 12:05 PM Masses are honored together at this Mass.**
**The decision was made to continue to celebrate one Mass each weekday as the St. Benedict Chapel is too small to comfortably and safely accommodate too many communicants, and it is too expensive to cool or heat the main church each day from early morning until after the Noon Mass.  We plan to revisit this decision in a few months to determine when we can go back to our regular weekday Mass schedule.
Thank you for your understanding!
---
PARISH OFFICE  –  SUMMER HOURS
MONDAY  –  THURSDAY,  9 AM  –  4 PM
CLOSED FRIDAYS
Regular hours resume after Labor Day.

---

COVID-19 RESTRICTIONS HAVE BEEN LESSENED – PLEASE NOTE THE FOLLOWING:
In conjunction with the State of New Jersey's lessening of restrictions related to the Covid-19 Pandemic, we have been notified by the Archdiocese of Newark the following:
Cardinal Tobin and the Bishops of New Jersey have reinstated the obligation to attend Mass on Sundays and Holy Days of Obligation.


Churches and parish facilities may return to 100 percent capacity with no social distancing for both indoor and outdoor services and activities.

If fully vaccinated, parishioners are no longer required to wear a mask. Proof of vaccination is not required.

Anyone not fully vaccinated should wear a mask.

Any fully vaccinated person preferring to wear a mask should feel free to do so.
Within the Mass:
The Sign of Peace should be offered but continue to be made without physical contact.

Communion will continue to be received in the hand. The chalice will still not be offered to the assembly.

Lectors and Cantors who are fully vaccinated do not need to wear a mask.

All Eucharistic Ministers must wear a mask and must sanitize their hands BEFORE they distribute communion.
Until further notice, our Daily Mass will still be in Church at 12noon from Monday thru Friday and 8:30 on Saturday morning.
---
2021 MONTHLY  CALENDAR RAFFLE

MONTHLY PRIZE:  $1,000
Next DRAWING:   August 1, 2021

JULY's winning ticket was selected on July 1st.  The WINNER is James D'Alessio.

---
The PARISH OFFICE is OPEN on SUMMER SCHEDULE, Monday through Thursday, 9 AM to 4 PM.    Please do not come in if you are feeling ill or have a fever.   Regular hours resume September 7th.

The FOOD PANTRY is open WEDNESDAYS, 9:30 AM to 12:30 PM, for Bayonne residents only.
(Non-perishable food items are always needed and very much appreciated.  You may bring your donation to the Parish Office, Monday – Friday, 9AM – 4 PM)

Ring the Office doorbell.  A pre-packaged bag will be brought to you.

To visit our RELIGIOUS EDUCATION OFFICE, call Marie Pope at 201-339-0319 or 908-612-6674.

---
WEEKDAY  MASSES, Monday through Friday are held at 12 Noon only, until further notice, in order to save on energy costs. (The scheduled intentions for both 8:30 AM and 12:05 PM Masses are honored  together at the 12 Noon Mass).  SATURDAY MORNING MASS is held at 8:30 AM.

WEEKEND MASSES are the regular schedule – Saturdays at 5:30 PM and Sundays at 8AM, 10AM and 12 Noon.  The 12 Noon Mass is livestreamed.

CONFESSIONS are held on Saturdays, 9:00 AM – 9:30 AM   and   4:30 PM – 5:15 PM

We continue to live-stream via our Facebook page (St. Henry RC Church) the weekday Masses as well as Saturday 5:30 PM and Sunday 10AM and 12PM Masses.

---
From the Archdiocese of Newark:  (click on title to view)
Rejoice in the Lord NEWSLETTER
by Cardinal Joseph W. Tobin, Archbishop of Newark
---
For more information about current parish events & other news
click on the "Bulletin" tab above to view our most recent bulletin
as well as past issues.
---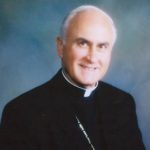 We remember with love our beloved pastor, bishop and  friend,
Bishop Thomas Donato
Oct. 1, 1940  –  Aug. 25, 2015