Welcome
We give thanks to God for all the blessings that He has bestowed upon our parish over the last 125 years. A small group of German immigrants has grown into a parish of over 1900 families in the course of these years. Growth has meant change from a small church on Broadway to our magnificent church of today where we are a community of people sharing the oneness of our faith and love for God. Our parish has a fine history of welcoming new parishioners and the community spirit among our parishioners continues to grow.
Our Mission is to continue the work started by our founders with Jesus Christ as our model, centered in the Eucharist, and teaching the gospel message and applying it to our everyday lives. May we be a beacon of Christian hope and love to the people of Bayonne as we are founded in the past and focused on the future.
To register with St. Henry Parish, come to the Rectory Office, in person, between 9 AM and 4 PM weekdays and complete a registration card, or call 201-436-0857 (Jean).
_____________________________
Solemnity of the Blessed Virgin Mary
Monday, December 31st  –  7:00 PM
Tuesday, January 1st  –  Masses:  8:30 AM & 12:05 PM
2020 MASS BOOK Opening
The 2020 Mass Book will open for intentions on Sunday, February 3rd, after the 8:00 AM Mass, in the Rectory Office.  In order to keep waiting time minimal, we will accept 4 Mass Intentions and 1 Memorial Intention per person that day.  Additional intentions will be taken beginning Monday, February 4th.
NOTE:  We still have a number of 2019 Memorials available for intentions
(Sanctuary Lamp, Altar Bread & Altar Wine).
See Jean at the parish office for more information.

For more information about current parish events & other news
click on the "Bulletin" tab above to view our most recent bulletin
as well as past issues.
____________________________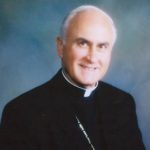 We remember with love our beloved pastor, bishop and  friend,
Bishop Thomas Donato
Oct. 1, 1940  –  Aug. 25, 2015