Welcome
We give thanks to God for all the blessings that He has bestowed upon our parish over the last 125 years. A small group of German immigrants has grown into a parish of over 1900 families in the course of these years. Growth has meant change from a small church on Broadway to our magnificent church of today where we are a community of people sharing the oneness of our faith and love for God. Our parish has a fine history of welcoming new parishioners and the community spirit among our parishioners continues to grow.
Our Mission is to continue the work started by our founders with Jesus Christ as our model, centered in the Eucharist, and teaching the gospel message and applying it to our everyday lives. May we be a beacon of Christian hope and love to the people of Bayonne as we are founded in the past and focused on the future.
To register with St. Henry Parish, come to the Rectory Office, in person, between 9 AM and 4 PM weekdays and complete a registration card, or call 201-436-0857 (Jean).
_____________________________
For more information about current parish events & other news
click on the "Bulletin" tab above to view our most recent bulletin
as well as past issues.
____________________________
ST. HENRY PARISH PICNIC
Sunday, September 15th
12 Noon Mass at the Amphitheater at 16th Street Park
followed by our Family Barbecue, 1PM – 5PM
Hamburgers, Hot Dogs, Corn,
Music, Fun Bus, Face Painting
Ticket cost is $8/person (age 5 & up)
Tickets will be sold at the Parish Office, 9AM – 4PM, Monday through Thursday
or call Joe Barbero at 201-745-1172
(proceeds, including the 2nd collection at the Noon Mass, will go
to the Catholic War Veterans, Post 1612)
MINISTRY OF CONSOLATION AND COMPASSION
Offering Hope to those who Grieve
Bereavement Ministry Support Group
We invite all those who may be grieving from the loss of a loved one
to join us.  Come, find comfort  in the company of others
and know you are not alone.  This is a safe, confidential place to offer
support, peace, hope and understanding in a non-judgmental setting
from those who have experienced a similar loss.
Meetings will be held at the St. Henry Parish Center
beginning Monday, September 9th for 5 weeks.
REGISTRATION IS REQUIRED – there is NO fee.
Call Jean at 201-436-0857 to register.
Newark Archdiocesan PILGRIMAGE
The Archdiocese of Newark is sponsoring a one-day Pilgrimage
to the Basilica of the National Shrine of the Immaculate Conception,
Washington, DC on Saturday, October 26th.
The pilgrimage will take place under the leadership of
Cardinal Joseph W. Tobin.
The feature of the day will be a rosary devotion and
a Concelebrated Mass.
A bus will leave from St. Henry Church at 6AM
and return approximately 6PM.  Cost is $45/person,  non-refundable.
As there are only 47 seats available, fully paid reservations
will be taken at St. Henry Parish Office, 82 West 29th St.,
on a first come, first serve basis, 9AM to 4PM Monday through Thursday. (Jean)
Plan now to be part of this Archdiocesan act of love and devotion
in honor of Mary, the Mother of the Church.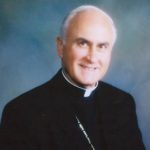 We remember with love our beloved pastor, bishop and  friend,
Bishop Thomas Donato
Oct. 1, 1940  –  Aug. 25, 2015